Experience impeccable cleaning with the Xiaomi Robot Vacuum E10. Boasting 4000Pa Powerful Suction and 4 adjustable levels, it swiftly clears dust and debris, even tiny particles. Enjoy 110-min battery life, multi-directional cleaning, and a smart water tank for precise moisture control. Its slim design ensures thorough cleaning under furniture. Manage effortlessly via the Mi Home/Xiaomi Home app.
Estimated delivery dates: Sep 27, 2023 - Sep 28, 2023

Island wide free delivery
Genuine Products with Manufacturer's Warranty
Pay Securely online or by Juice
Dedicated Customer Service
Hassle Free Installation Service
The buttons can light up in different patterns and colors, indicating the robot's actions, like charging, returning to the docking station, encountering an error in its functioning, upgrading the firmware, or getting disconnected from Wi-Fi.
When you turn the Xiaomi Robot Vacuum E10 upside down, you see the cliff sensors, charging contacts, and the top wheel. Next, you have the removable side brush, the main wheels, and the main brush, protected by its cover. The dust compartment is made from transparent plastic. It can also act as a water tank for the mopping function.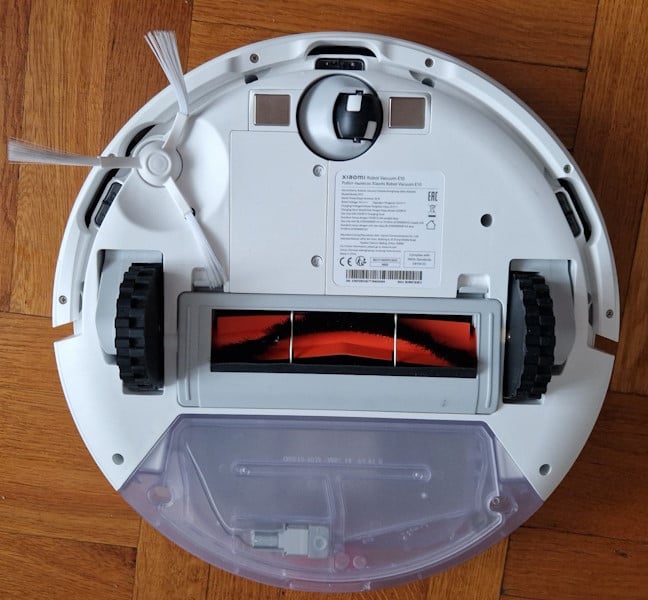 It's easy to take out the dust compartment, revealing the system through which the dust is collected.
The 2-in-1 dust compartment has a hole for the water tank on its side, and it also includes a brush you can use to keep the robot clean.
The mop holder with the attached cleaning pad should be inserted in its dedicated slots on the bottom of the 2-in-1 dust compartment. You'll be happy to find out that the mop pad can be easily removed, washed when required, and placed back with little effort.
The dock is 5.75 x 4.8 x 3.44 inches or 146 x 122 x 87.5mm in size. It charges the battery of the Xiaomi Robot Vacuum E10, which has a capacity of 2600 mAh. While the battery capacity is not exactly generous, Xiaomi claims that this robot vacuum can offer up to 110 minutes of cleaning using the standard vacuum and mop mode.
Xiaomi Robot Vacuum E10 has a suction power of 4000 Pascals, which is quite a lot for an entry-level model. However, this suction power is reached only when using Turbo mode, and the downside is a much higher energy consumption than in the Standard mode.