The Logitech Ultimate Ears Megaboom 3 is a powerful wireless Bluetooth speaker that delivers booming sound in a compact design. With its 360-degree sound, deep bass, and rugged construction, it's perfect for outdoor adventures or indoor gatherings. It's also water-resistant and offers long battery life for uninterrupted music enjoyment.
Pay Securely Online or on Delivery


Island wide free delivery
Genuine Products with Manufacturer's Warranty
Pay Securely online or by Juice
Dedicated Customer Service
Hassle Free Installation Service
?LOUD AND TRUE
MEGABOOM 3 features powerful, immersive sound. But it?s also carefully balanced and perfectly clear. Featuring Ultimate Ears unique sound processing, it produces audio faithful to the music you love, and at every volume level.
?SPATIAL 360? SOUND
In MEGABOOM 3 we?ve perfected the iconic cylindrical design we pioneered to deliver immersive, stereophonic audio that radiates evenly in all directions.
?THUNDERING BASS
MEGABOOM 3's extra size and larger woofer create intense bass you can both hear and feel ? 50% deeper than BOOM. But unlike most other portable speakers, it?s true to your music. No exaggeration or distortion.
VIRTUALLY INDESTRUCTIBLE
MEGABOOM 3 is built tough and ready for adventure. We put it through more than 25 rigorous durability tests including 1000s of button pushes, tumbles, drop tests and more. You can drop it, kick it, headbang with it, even spill your drink on it, and your MEGABOOM 3 speaker will take it all like a champ. Rock on.
MEET THE ALL-NEW MAGIC BUTTON
With MEGABOOM 3 you can play, pause and skip tracks directly on the speaker. Just push for convenient control of any streaming music. Or simply set up custom one-touch playlists for Spotify??on Android*, Amazon Music Unlimited, Apple Music and Deezer??Premium. Match the moment with the vibes without reaching for your phone.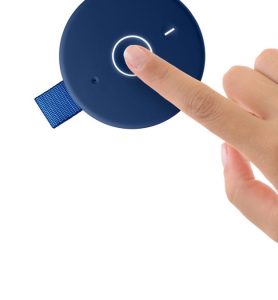 LIGHT-SHIFTING FABRIC
MEGABOOM 3 are covered in a two-tone fabric that?s as tough as it is hot-damn beautiful. Engineered for applications like motorcycle jackets and fire equipment, this performance textile is built for extremes. And colored two ways by our custom dying process, it comes to life in a range of drool-worthy iridescent themes.
INDUSTRY LEADING BATTERY LIFE
The kick-ass sound of MEGABOOM 3 is matched by its massive 20-hour** battery life. Using the latest battery cell technology powering high performance electric cars, it will last almost a full day on a single charge. Party. Til. You. Drop.
WATERPROOF & FLOATS
Dunk it. Splash it. Drench it. Crank it. MEGABOOM 3 is designed to get seriously wet and keep on booming. Featuring a ridiculous IP67 water and dustproof rating, it can be totally submerged in water for up to 30-minutes. Plus, it floats too. So if you drop it in the pool, it will pop to the surface in seconds?ready to rage.
CHARGE-N-GO WITH POWER UP
Throw Power Up charging dock into your basket (sold separately) so you can grab-and-go with your MEGABOOM 3, fully charged, to your next musical adventure.