Availability: Only 1 left in stock
Connect+Yes, Shapes panels are designed to work together ?
Touch ControlYes
Music SyncYes
Screen MirrorYes
Colour
Colour Temperature1200K ? 6500K
Colour Channel ConfigurationRGBW
Colour CapabilityMore than 16 million
Colour Rendering Index (CRI)80
Power
Voltage100VAC ~ 120VAC
Max Power Supply Power42W
Max Energy Consumption Per Panel2W
Max Panels per Power Supply21 hexagons per 42W PSU
Max Panels per Controller500 Hexagons
Estimated delivery dates: Dec 2, 2023 - Dec 3, 2023
Pay Securely Online or on Delivery


Island wide free delivery
Genuine Products with Manufacturer's Warranty
Pay Securely online or by Juice
Dedicated Customer Service
Hassle Free Installation Service
Expand your design with the 3 panel Expansion Packs. Connect up to 21 Hexagon Panels with one Power Supply (for bigger layouts get an Add-on Power Supply from the Nanoleaf Shop). Also available in Triangles and Mini Triangles?mix and match any panel shape from the Nanoleaf Shapes or Elements product lines (NL42/NL47/NL48/NL52 models). Please note, this Pack requires a Shapes Smarter Kit to work.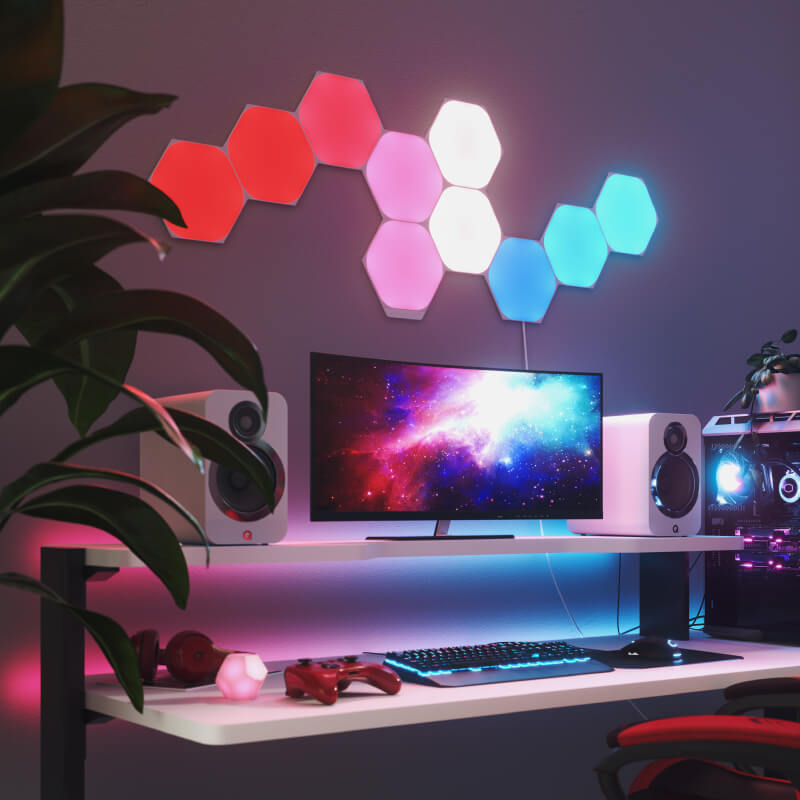 Height Per Panel

7.75 in / 20 cm

Width Per Panel

9 in / 23 cm

Edge Thickness

0.24 in / 0.6 cm

Mounted Thickness

0.39 in / 1 cm

Weight Per Panel

0.46 lb / 208 g

Cable Length

8.2 ft / 2.5 m

Connect+

Yes, Shapes panels are designed to work together

?

Screen Mirror

Yes

General

Luminous Flux Per Panel

100 lumens

Communication Protocol

WiFi (2.4 GHz b/g/n)

NOTE: 5 GHz networks are not compatible with Nanoleaf products.

Dimmability

Yes (via Nanoleaf App, Voice, Touch)

Mounting Type

Via included double-sided tape or screw mounts (screws and anchors not included)

Nanoleaf App

Control via the Nanoleaf App (Android & iOS) for mobile/tablet or the Nanoleaf Desktop App (Windows & Mac).

Thread Compatibility

Yes, Shapes work as Thread Border Router

Compatibility

Apple HomeKit, Amazon Alexa, Google Assistant, IFTTT, Nanoleaf Remote, SmartThings, Razer Chroma

Colour

Colour Temperature

1200K ? 6500K

Colour Channel Configuration

RGBW

Colour Capability

More than 16 million

Colour Rendering Index (CRI)

80

Power

Max Power Supply Power

42W

Max Energy Consumption Per Panel

2W

Max Panels per Power Supply

21 hexagons per 42W PSU

Max Panels per Controller

500 Hexagon